By "Tree Structures" we mean trees that appear to have been broken, twisted, or arranged is some way that would be difficult or impossible to occur naturally, and in some cases even too monumental a task for humans to pull off.  Before categorizing a discovery as evidence of possible Sasquatch activity, we endeavor to eliminate any or all natural explanations.  Mistaken conclusions are, of course, always possible.  Look at the images here, and judge for yourself.

Broken trees are not, of course, in and of themselves evidence of anything - other than natural processes of growth and death in action.  The question of whether a particular break could be Sasquatch-related is not due to the fact that it is broken, but more WHERE it how broken, and HOW it was broken.


tree, leaned into the crook of another tree.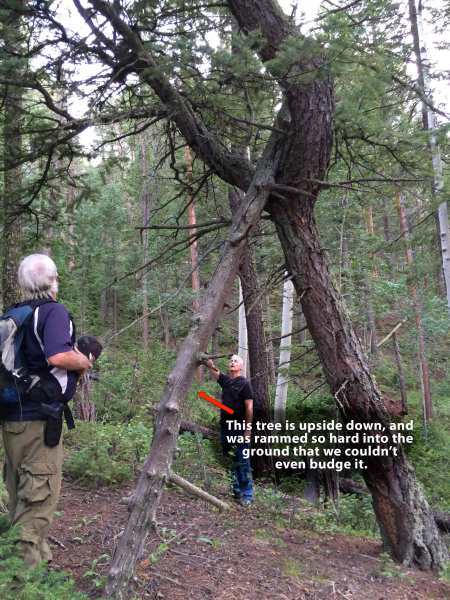 This curious upside-down tree was found approximatley 400 yards off the trail, so it was unlikely that it was put this way by humans.  And after looking at the size of the upside down tree, and how far it was stuck into the ground - we're not sure a human could possibly accomplish this.

"Sculptures" may be a bit of an overstatement, but what we're talking about here (as you'll see from the photos) are either tree "tee-pees" that were built rather than falling in place naturally, or branches woven together in an obviously intelligent manner.